Getting strata documents in British Columbia is easy and convenient, only with StrataPress.
A centralized system for REALTORS®, Lawyers & Notaries to quickly purchase & download strata documents from property management companies in BC.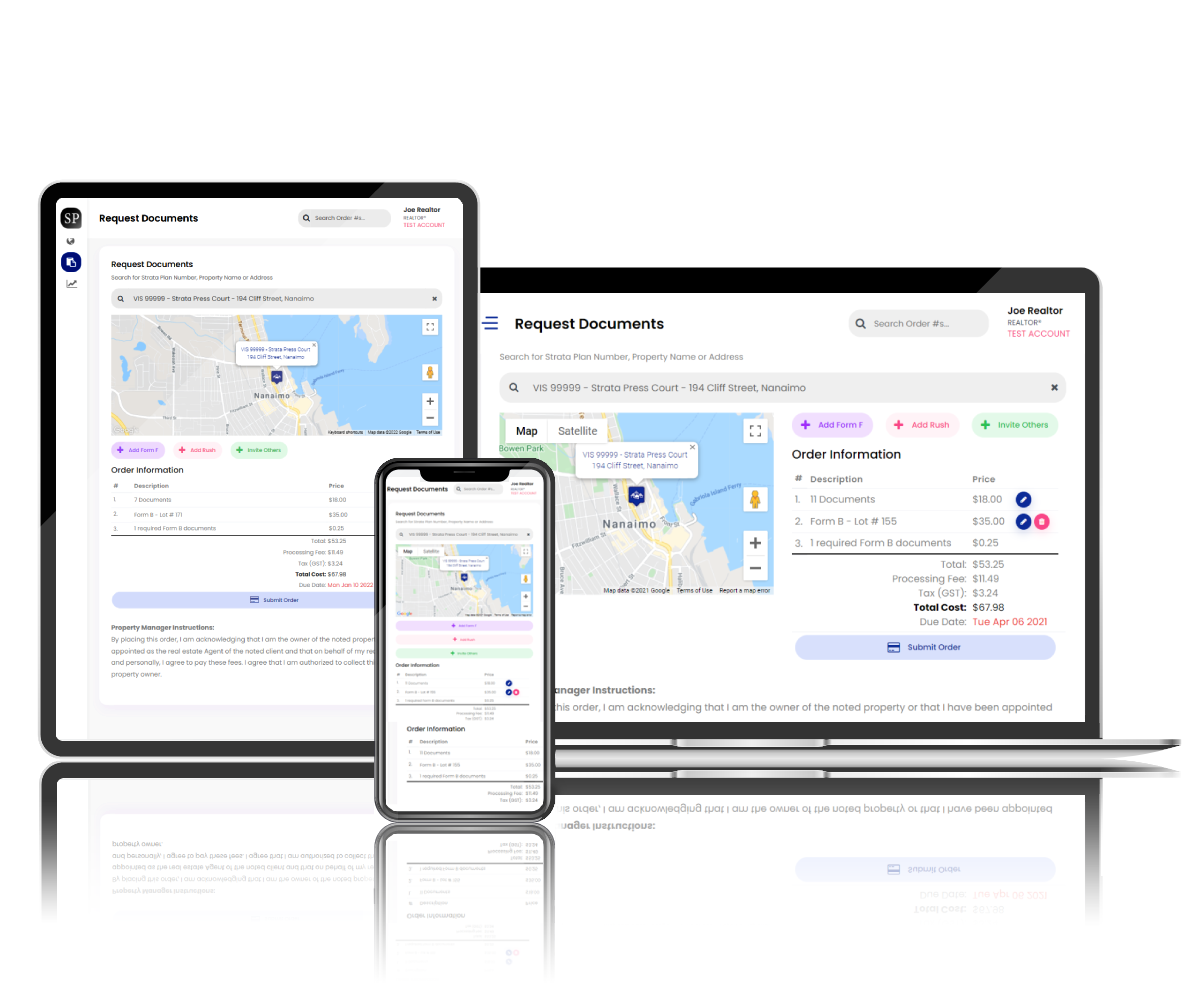 What StrataPress Can Do For Your Business:
Eliminate photocopying, arranging couriers and pick-ups.
Eliminate calls from Owners & Realtors requesting documents.
Increase profit generated from document requests.
Automate document requests & decrease administrative time.
Help your business transition to a paperless document system.
Instantly provide strata documents to thousands of Realtors, Lawyers & Notaries.
Strata Corporations Online
Strata Documents Available
3 Easy Steps To Get Started With StrataPress!
Upload a spreadsheet with your strata property details and we take care of the rest.
Our platform enables you to securely upload strata documents directly to us in one easy step. We sort them and place them within their proper strata.
We take care of all of the details to ensure minimal impact on your day-to-day operations.
Have Questions Before Getting Started?
Call Us at
250-412-6595!
Frequestly Asked Questions.
Who is StrataPress designed for?
Our secure online platform is designed for
Property Management Companies
and
Self-Managed Strata Corporations
who want to
automate strata document requests
and sell documents online. We offer a document management platform and a document ordering system for REALTORS, Lawyers and Notaries requesting Form B's/F's though a registered account.
Realtors, Lawyers and Notaries who need to obtain strata documents from Property Management Companies and Self-Managed Strata Corporations in BC use StrataPress to get immediate access to strata documents and to manage requests for Form B & Form F certificates.
Strata Owners use our Strata Owner's Portal to access important archived strata documents and recieve new documents from their Strata Manager. Strata Owners can also request Form B & Form F certificates from their Strata Manager or Strata Council. StrataPress is also an effective and confidential comunication platform that benefits everyone involved in the management of a Strata Corporation.
What are the set up costs?
There is ZERO set up costs with StrataPress. Onboarding requires nothing more than providing a list of properties on a spread sheet and uploading all of your strata documents to a secure sever space we provide. We take it from there and get your properties and documents sorted in the proper order. Call us to get started, 250-412-6595.
What are the ongoing monthly or annual costs?
There is ZERO monthly or annual costs for using StrataPress. We generate revenue thorugh a nominal access fee charged to anyone requesting the documents. We provide a value-added service with immediate downloading of every strata document available on our system, and with access to Form B & Form F certificates in as little as 24 hours.
Can a self-managed Strata Corporation use StrataPress?
Yes, self-managed Strata Corporations can absolutely use StrataPress. Your Strata Corporation can archive a distribute important strata documents to your council and owners and let us take care of the document sales. We collect payment and send you a sales report and cheque every month. Partner with us and start generating revenue immediately. Read More…
Is StrataPress easy to use? Is training available?
StrataPress is very intuitive and easy to use. New users requiring documents can create an account and place their first order in a matter of minutes. We offer live chat support on our website and helpful short videos on YouTube. Managing documents is also very easy. We will provide online training for Strata Managers on request, just contact us and we will arrange a convenient time. You'll be an expert in 20 minutes or less!
Where are our strata documents and building information stored?
StrataPress uses secure Microsoft Azure data centers located in Toronto and Montreal.
What makes StrataPress different from similar services?
There is no service like StrataPress. With our platform Property Managers can manage, archive, distribute and sell important strata documents to all relevant parties involved in the operation of a Strata Corporation. We provide a simple and easy method for uploading and managing files online. We believe that if the process is simple and easy, then it will more likely be used effectively. We are dedicated to simplifying the services and tools we offer so that both Strata Managers, and untrained volunteers that make up a strata council, can easily perform every task.
We are committed to best practices and exceeding industry standards with compliant operations, optimized performance and outstanding support.
What is the Strata Owner's Portal?
Every Strata Corporation on StrataPress gets a strata communication portal with lots of innovative, time-saving features designed specifically for Strata Owners and Strata Managers.
Value added Service
Give your Strata Owners secure access to important strata documents online anytime 24/7. Distribute & track every document & notification sent to strata owners.
Proven Communication Platform
Connecting over 25,000 Strata Owners in BC with their Strata Council & Strata Management.
Secure Document Access
Multiple levels of access enable Strata Owners & others to securley download or purchase important strata documents online at their convenience 24/7-365. 
Partner with Us!
Send us a Message or Call 250-412-6595
StrataPress is located in Victoria, British Columbia. If you would like to get in contact with us, just send us a message using the form below, or live chat with us 9am-9pm PST.